LOCAL ACTION GROUP PODRAVINA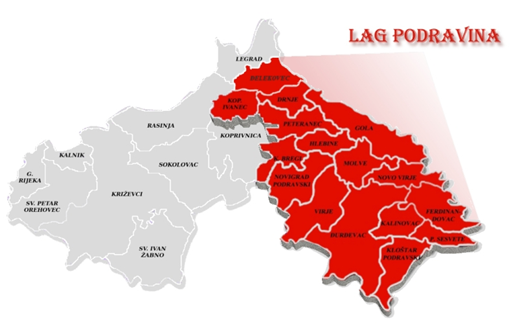 The initiative for the establishment of Local Action Group Podravina started on May 14th of the year 2011 and was initiated by PORA Regional Development Agency of Koprivnica Križevci County, Koprivnica Križevci County and the City of Đurđevac.
Local Action Group – LAG Podravina held its Founding Assembly during the 15th of October 2012. The founders of LAG Podravina are the City of Đurđevac and the municipalities of Drnje, Ferdinandovac, Gola, Hlebine, Kalinovac, Klostar Podravski, Molve, Novigrad Podravski, Novo Virje, Podravska Sesvete and Virje.
Immediately after the Founding Assembly, activities began on the development of the Local Development Strategy of the LAG Podravina. Respecting the LEADER approach, members of the public, civil and private sectors participated in the development of the Strategy. Between the 5th and 28th of November 2012, 9 workshops in total were organized, three for each sector.
Subsequently, the Decisions on joining the LAG were made by the Municipality of Peteranec, the Municipality of Koprivnicki Bregi, the Municipality of Delekovec and the Municipality of Koprivnicki Ivanec, thereby extending the area of influence of LAG ​​Podravina to a total of fifteen local self-government bodies in the Koprivnica-Križevci County.
The goals of LAG Podravina are:
promoting rural development through local initiatives and partnerships;

information flow and knowledge transfer;

networking of all entities that can contribute to the development of the LAG area of influence;

sustainable development;

developing existing potentials;

strengthening the capacity to implement European projects.